What's for dinner?
Not a question I usually struggle with. Almost every day I make this decision on some level. At the restaurant I write a menu and, although indirectly, decide what you'll eat. Many guests choose a Chef's Tasting Menu. In this case I am directly deciding what's for dinner. Usually between six and eight small courses. Chosen to satiate, satisfy, sometimes even challenge the diner. If I'm not at work and we go out, I usually select the restaurant and, if we stay home I usually cook. Again, indirectly or directly, choosing what's for dinner.
This is almost never a problem. I thoroughly enjoy preparing food for people. I think about food all the time. At any given moment I'm pondering a number of dishes to mess around with. There are always new vegetables coming into season, new inspirations and classics to reinvent.
The only time I have trouble making the decision, I mean real trouble, not "should we have pizza or thai?" is when I'm writing a cooking class. I have been doing classes, both public and private for 17 years. I always struggle with what to offer. The recipes need to be approachable enough that folks will actually cook them at home. They need to be complex enough that I'm really teaching a new technique. Short cuts and pro tips are good enough. but, you can't fill 3 hours with tricks people can see on youtube or The Food Network. I also have to feed 18-20 people the recipes I'm demonstrating without the benefit of a real stove top or oven. (The classes are held in the dining room at the restaurant.) So it's a fine line to walk and one that even after countless classes I still struggle with.
My most recent class was the first of an international series. The guests were expecting to learn about Italian flavors. Seems easy enough. I decided on a simple cool seafood salad to start. I could talk about different ingredients and how they work together. The balance of fat and acidity in the dressing and why that was important. Introduce some potentially new ingredients or ideas, like grilled lemons, and black garlic. For dessert I'd take apart the Tiramisu. Everyone should know how to make a classic mousse. So there is some good tec stuff in there. Mascarpone, espresso, chocolate, what's not to love? This leaves me with the Big Question.
"What's for dinner?"
With the cold weather I'd been craving polenta. But, I thought stirring cornmeal into warm milk wasn't much of a recipe or technique. A day or so later I thought Potato Gnocchi would be great. The problem is, as much as I love my gnocchi, as light and lovely as they are, they are a pain to make. Standing in front of a class filled with hungry people watching 45 minutes of labor disintegrate into a steamy cloud of soggy starch didn't sound like a whole lot of fun. That's what led me to the idea of Polenta Gnocchi. Quick Google search and …there were a few recipes but, none like what I had in mind. What I wanted to do was make polenta and substitute that for the potato in my gnocchi recipe. So, I gave it a shot. They were delicious. Still light but with a subtle sweet punch of corn. Much easier to work with than the potato version. And better yet, I can offer three recipes for the price of one. You learn polenta and two different versions of dumplings.
Served with a super simple red sauce and a traditional meatball, I believe we used to say "BAM!" dinner is served.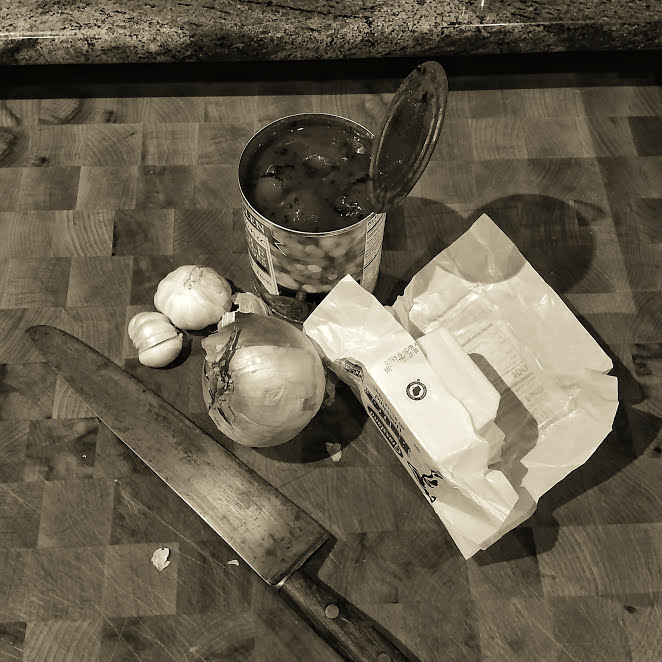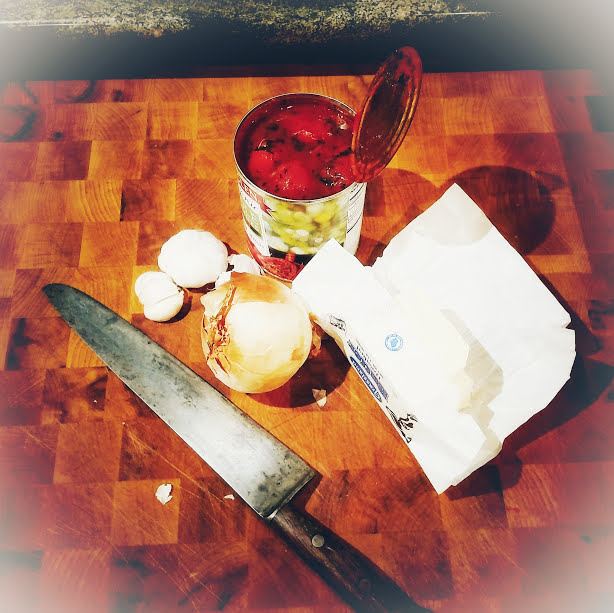 Tomato sauce
1 can fire roasted plum tomato
½ onion
4 cloves garlic
4 ounces butter
Salt and pepper
Combine and simmer 45 minutes. Remove onion and smash tomatoes
Pasta water to adjust consistency
2 tablespoons olive oil and fresh herbs to finish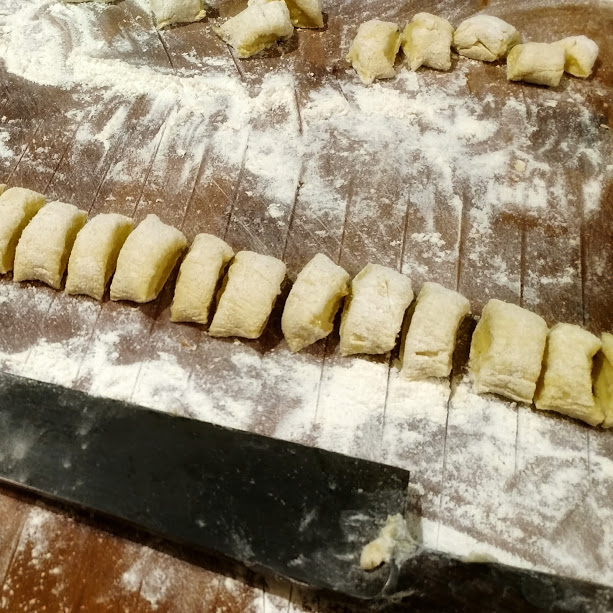 Polenta gnocchi
2 cups milk
½ cup cornmeal
salt and pepper
2 eggs
1 cup flour
Simmer milk. Whisk in cornmeal and seasoning. Simmer 30 minutes. Pour into a bowl and cool slightly. Add eggs. Add flour and knead gently. Form gnocchi. Boil in salted water for 2 minutes. Strain, sauteed in butter/oil to serve.
Meatballs
2 pounds ground meat
1 cup sofrito
2 egg
½ cup milk
1 cup bread crumbs
Seasoning- grated parm, worcestershire
Combine, form small balls. Coat in bread crumb. Fry or bake.